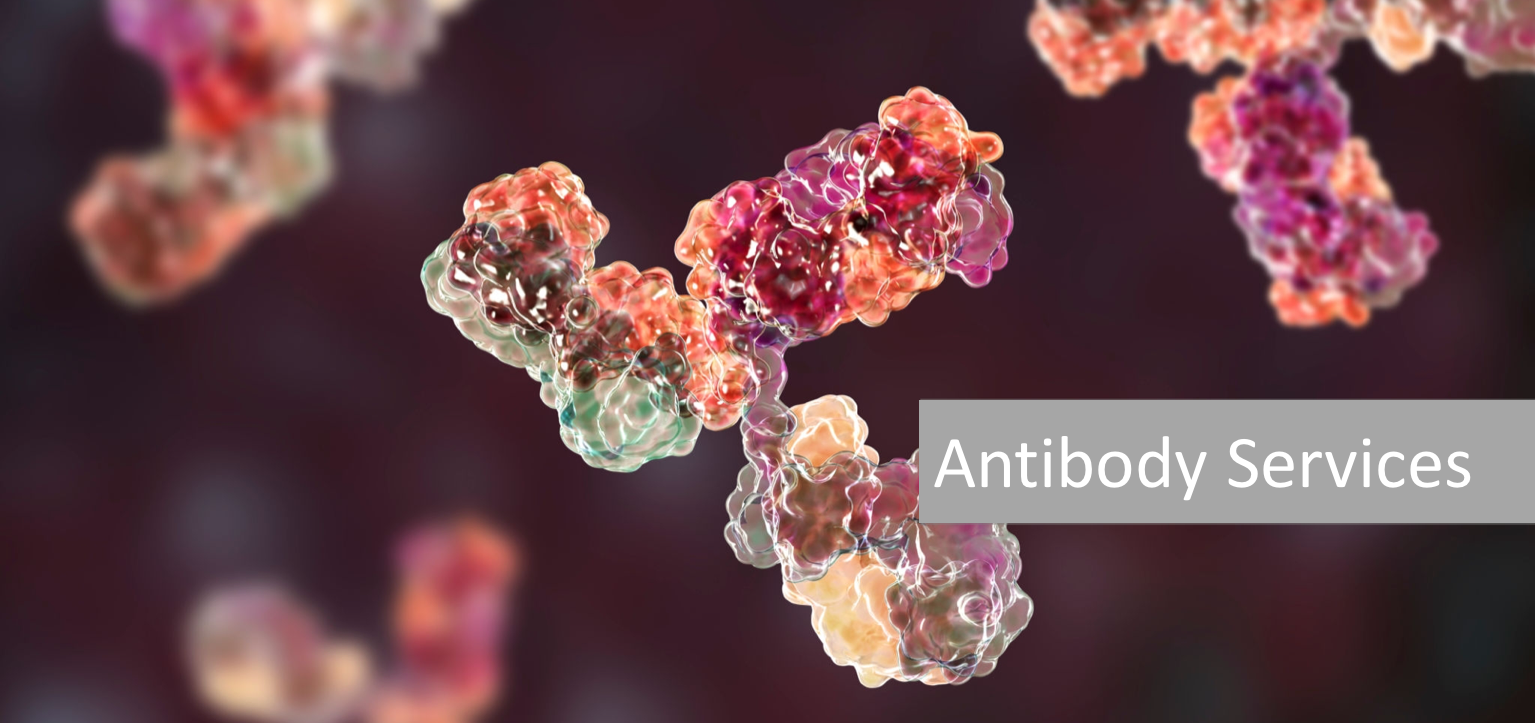 SERVICE DESCRIPTION
Boston MoleculesTM is a leading custom antibody developer facilitated with cutting edge technologies and innovations. Our B-cell cloning antibody platform is emerging as the world's best monoclonal antibody development strategy that outperformed traditional hybridoma technologies by more than 10 fold increase of positive colony numbers and superior affinities in selected antibodies.
Cohesive with our Bioinformatics scientists and Crystallography scientists, our custom antibody services deliver >90% successful projects by guaranteed antibody development strategies including antigen 3D structure prediction and homologous sequence exclusions. We also offer 60-70 days short turnaround cost-efficient polyclonal antibody services with free epitope prediction service.

FEATURES:
Cutting edge B-Cell cloning technologies
>95% successful rate
Guaranteed packages

Western blot guaranteed packages
Elisa guaranteed packages
IHC guaranteed packages
IP guaranteed packages
Fast turnaround (60-70 days delivery of polyclonal antibody)
Quotations: Get an instant quote
Antibody Production:
Phase​
Description​
Timeline​
Deliverables​
Animal immunization​
3 rabbits (express or conventional immunization)​
Express: 5 – 6 weeks Conventional: 8 – 10 weeks​
• Antiserum report​
• Small scale pAb purification (optional)​
B cell cloning and screening​
1 round of B cell cloning​
3 weeks​
• Positive clones report​
• 1 ml B cell supernatant delivery, up to 50 clones ​
Antibody sequencing & small scale transfection​
Sequencing of 3 customer-selected clones, followed by small scale rAb expression​
3 weeks​
• Sequence reports​
• Up to 5 rAb supernatants (2 ml), or purified rAb (0.1 mg)​
​
 Recombinant antibody production​
Scalable expression of selected recombinant rabbit mAbs​
3 weeks​
• Sequencing report​
• Purified antibody​
Technical Resource ​
Polyclonal vs Monoclonal Antibodies​
The first step to identify an optimal antibody production strategy or service is to decide whether you are better served with a polyclonal or monoclonal antibody. Boston Molecules (BM) provides a complete portfolio of both Polyclonal and Monoclonal antibody packages. The general advantages and disadvantages of each are outlined below.​
​Polyclonal Antibodies​
Polyclonal antibodies are produced by different B cells in a host animal and recognize multiple epitopes of a single antigen, primarily a protein or a synthetic peptide. Polyclonal antibodies can be produced in large quantities in a short time at low cost, making it suitable for most basic research purposes (e.g., WB, IP/ChIP et al) but with possible higher background in certain applications.​
​Monoclonal Antibodies​
Monoclonal antibodies are generated by identical immune cells that are clones of a single parent cell, indicating that the antibody recognizes only a single epitope of an antigen and is quite specific. Monoclonal antibodies are generally produced by fusing myeloma cells with spleen cells from the mouse immunized with the target antigen to produce a hybridoma. Each hybridoma is then grown separately to produce colonies of identical daughter cells. This allows researchers to collect and compare the antibodies secreted by each hybridoma to select the most optimal ones for their ultimate detection or purification goals.​
​Monoclonal antibodies are better suited for projects with the requirement for high specificity to the antigens or for Antibody Drug Development with minimal background noise and cross-reactivity and excellent for affinity purification, but with more expensive, longer production time.​
​Why Rabbit?​
Due to the rabbit's superior immune system, they can generate antibodies with higher specificity, sensitivity, affinity, and diversity than those generated in more commonly used model species. Following are rabbits' advantages: 1) Strong Immune Response(Increasing the immune response to limited epitopes); 2) Unique B-cell maturation(Including gene conversion & multiple rounds of somatic hypermutation); 3)Unique IgG Structure(Contains additional disulfide bonds for high stability); 4) Large Body Size (Facilitates the large collection of antiserum & immune cells); 5)High Genetic Heterogeneity (Limited inbreeding allows for wide antigenic recognition); 6)Long Evolutionary Distance (Their immune system can respond to human & mouse antigens)​
​
Applications​
Basic Research​
Non-rabbit mAbs often fail to detect difficult antigens (Ags) such as small molecules, Ags with highly similar epitopes, post-transcriptionally-modified Ags, and Ags with no immunogenicity in mice. They also tend to require stringent optimization protocols in order to work in certain applications, possibly affecting the overall effectiveness of the experiment and interpretation of the results (ELISA, Immunohistochemistry (IHC), FACS, Western blot)​
Diagnostics​
In Vitro Diagnostics: A variety of In Vitro diagnostic (IVD) assays, such as IHC, ELISA, and radio immunoassays (RI) are based on the principles of antigen-antibody binding. Given the critical role these assays play in patient and animal care, it is extremely important that IVD assays are carried out using the highest sensitivity and affinity mAbs available.​
In Vivo Imaging: Visualization of mAbs can be accomplished through numerous means; however, the most common method is through labelling of mAbs with radioactive or fluorescent molecules to help track them in the body and aid in quantifying the results including In Vitro Diagnostics (IVD) and In Vivo Imaging.​
Therapeutics​
Anti-Idiotype Antibodies: Pharmacokinetic (PK) assays are used to measure the absorption and excretion rates, distribution, and half-life of candidate small molecules or mAb therapeutics. Results from these assays help identify the optimal dose and toxicity risks of a therapeutic molecule. Therefore anti-idiotype antibodies need to be sensitive enough to capture trace amounts of their antibody target in free, bound, and total forms in biological fluid samples.​​
mAb therapeutics: The high specificity and sensitivity of an antibody towards its target antigen reduces both safety and toxicity concerns: highly specific antibodies avoid off-target binding and hence, offer safety; highly sensitive antibodies require low dosage administration and hence, cause a minimum level of toxicity.​
Methods​
MrAb™ is a full-scale, comprehensive antibody generation service that harnesses BOM's advanced expertise in rabbit mAb discovery. With our proprietary immunization and B cell cloning technologies, we are able to generate a large number of diverse, high-affinity rabbit mAbs towards your target antigen with industry-leading turnaround times and highly competitive pricing.​
​
The major steps include 1) Immunization; 2) PBMC Isolation; 3) Antigen-Positive B Cell Enrichmen & Expansion; 4) Screening & Supernatant Harvest; 5) Antibody Sequencing & Small Scale Transfection; 6) Recombinant Antibody Production. To achieve rabbit mAbs ideal for your research applications can be in as fast as 13 weeks in total. ​
Service Details​
In addition to customizing a MrAb™ package tailored specifically to your needs, we also offer comprehensive antigen design and production services.​
Phase
Description
Timeline
Deliverables
I) Animal Immunization
4 rabbits (express or conventional immunization)
Express: 5 – 6 weeks Conventional: 8 – 10 weeks
• Antiserum report
• Small scale pAb purification (optional)
II) B Cell Cloning and Screening
1 round of B cell cloning
3 weeks
• Positive clones report
• 1 ml B cell supernatant delivery, up to 50 clones (optional)
Additional screening and increased clone number delivery options available
III) Antibody Sequencing & Small Scale Transfection
Sequencing of 5 customer-selected clones, followed by small scale rAb expression
3 weeks
• Sequence reports
• Up to 5 rAb supernatants (2 ml), or purified rAb (0.1 mg)
Additional sequencing and supernatant delivery options available
IV) Recombinant Antibody Production
Scalable expression of selected recombinant rabbit mAbs
3 weeks
• Sequencing report
• Purified antibody
Our customer representatives are available 24/7/365 to assist you. Order By